About us
In 2006, VICSYSTEM was developed with the help of elite runners and has since revamped the website to its current version. This website is the brain child of Patric Lüthi, Marathon-PB 2:40, owner of Athena Ltd. in Zürich, he continues to run races all over the world.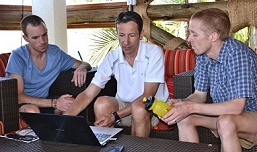 Later on, top Canadian Marathoners, Reid Coolsaet and Eric Gillis, met Patric at Lornah Kiplagat's High Altitude Training Centre (HATC) in Iten (Kenya) where athletes from all over the world stay and train.
Reid and Eric plugged their PB's and goal times into VICSYSTEM and checked out the training plan it calculated for them. To their surprise, the program closely resembled the training they do throughout the year and leading up to marathons. VICSYSTEM occasionally had them running above 210km in a week during marathon preparation (normal for them) and periodized their training to maximize recovery and performances. On top of that, many of the specific sessions were exactly like the ones they do.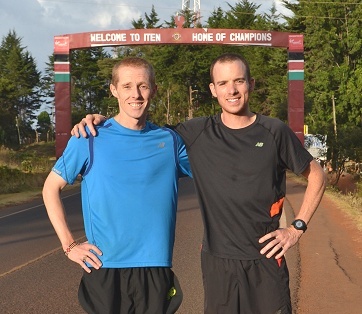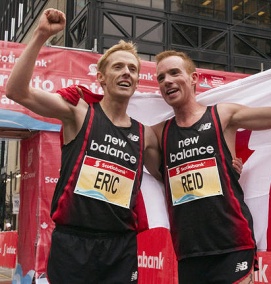 Reid and Eric thought about getting into online coaching but it's not as simple as giving recreational runners a scaled back version of their training. VICSYSTEM calculates and develops training programs that cater to all running levels. Similar to an on-site coach, the training programs VICSYSTEM calculates are continuously adjusting to reflect the developing fitness of the user based on the training details entered into the feedback section.
VICSYSTEM collaborates with Reid and Eric on their training philosophies as well as continually integrates the latest proven training findings into the training programs. It is important to keep up-to-date with
cutting edge research
without getting caught-up in ineffective fads that seem to come and go all the time.
VICSYSTEM has helped thousands of runners reach their goals in Europe (the site was previously only available in German) and so Eric and Reid wanted to bring this service to North America as there was nothing quite the same available here.
Kenya
The expertise from the best long-distance runners in the world is an important element built into VICSYSTEM.
VICSYSTEM's first fine-tuning was carried out in the highlands of Eldoret (Kenya), where famous training camps of top Kenyan athletes are located. Well known runners such as Wilson Kipsang, Geoffrey Mutai, Mary Keitany, Bernard Lagat, Asbel Kiprop, David Rudisha were born or train in this area.
The study of the training methods and the individual implementation of the various elements of training deliver valuable knowhow, which is the basis of VICSYSTEM.
Kenya is proof that training conditions in no way have to be optimal to achieve a positive training effect:
| | | | | |
| --- | --- | --- | --- | --- |
| 10 to 15 minutes warm up from our lodging to the 400m track in Kapsabet. | | The runners starting a 5x2'000m interval workout. | | The surface doesn't always have to be perfect, as long as you achieve a training effect. |
| Young runners from various nearby villages mix themselves with elite runners. | | These runners do 5x2000m at a pace lower than 3:00min/km. | | The training plan for the toprunners in the camp. |
It's good to have VICSYSTEM! So please enjoy the comfort of an up-to-date and dynamic training plan! These recommandations will help you anyway:
Sunday is not a holiday, eat well, sleep well, don't use alcohol!
VICSYSTEM
®
a service of
Athena Ltd.
Patric Luthi, CEO
Bellerivestrasse 2
CH-8008 Zurich - Switzerland
Phone +41 44 389 63 63
Email
info@vicsystem.com